THE COMPANY BEHIND THE SILVER BRAND IS SILVER VISCOUNT. OUR MISSION AT SILVER VISCOUNT IS TO PROVIDE THE BEST IN THE TEXTILE INDUSTRY. WE OFFER SEWING MACHINES, OVERLOCKERS, STEAM PRESSES, KNITTING MACHINES AND A COMPLETE RANGE OF SEWING & KNITTING ACCESSORIES.
Silver Viscount was formed in 1990. Originally based in Mitcham, Surrey, the company moved to Bedford in 1999. In January 2001 continued expansion saw Silver Viscount move to new offices and warehouse facilities in Rushden, Northamptonshire.
Our extensive range of Silver Sewing Machines, Overlockers and Steam Presses are distributed throughout the UK and abroad and have obtained an enviable reputation for both quality and reliability.
Silver Viscount are distributors throughout the UK and Europe of Silver Reed Knitting Machines, the only major knitting machine manufacturer in the world today.
A huge stock of accessories and spare parts is available which together with our experienced after-sales service department provides support and back up for both the Silver and Silver Reed brands.
We continue to supply the trade with a variety of generic sewing and knitting machine parts, accessories, threads, needles and general haberdashery alongside our range of Forsell Yarns.
If you would like any additional information about our Company or our high quality products you can contact us using the contact button at the top of the page or simply give us a call on 01933 311888.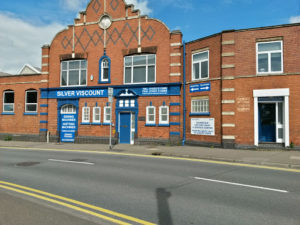 Silver Sewing Machines
Silver Viscount
Atlanta House
John White Business Centre
Midland Road
Higham Ferrers
NN10 8DN
TEL: 01933 311888
FAX: 01933 312888
EMAIL: [email protected]
Registered in England, Reg No.: 2558902 at address above.
Sales & Showroom
Email: [email protected]
Sewing Machine Repair & Service Centre
Email: [email protected]